Where is the one place that you will be interviewed like a contestant on a speed dating show, treated like a criminal, and if you're feeling lucky, will have your car searched by a canine team?
Why, it's the border to your own country of course!
Look, I get it. It's the one stop before we let some psychotic bloodthirsty Canadian, hell bent on world domination into our country. I can't blame the guys at the border for taking their job too seriously, but I'm a college student without a criminal record that frequently crosses into Canada (AT LEAST once a month). Is it really necessary for you to tear my car apart every time I cross, officer? Are you going to at least take my car to dinner before ravaging it? No? Oh god, your hand is in there
all nice n' deep like
...
THIS
is why I hate the border. Because no matter what, if I cross the border alone, I am held up for an hour while getting drilled with off putting, captious questions by Captian Cockbag the Rent-A-Cop while his BFF tears apart the interior of my car. They actually brought out the drug dogs last time. I wish I were lying.
I wouldn't even mind it if the questions were on target, but I don't want to talk about what school I go to for five minutes before they ask me if I'm a coke fiend. I kid you not, this conversation happened word for word.
"So how did you meet this person you're going to see?"
"On World of Warcraft. We met on there about three years ago and have been hanging out ever since"
"World of Warcraft?"
"Yeah it's a-"
"I KNOW WHAT IT IS. Do you have any weed in the car?"
"Wha- No! Of course not"
"That's good. What school do you go to?"
"Schoo-"
"WHEN WAS THE LAST TIME YOU SMOKED POT?!"
There must be something about my appearance that screams shady drug dealer
. Sorry officer, I left my top hat and monocle at home. Could I persuade you with some tea and crumpets?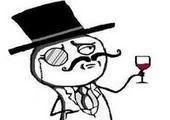 Some chill dubstep. Sunlight by Modestep!